About
KATL PROFILE
KATL is the only Adult Contemporary Station in Eastern Montana.  With 10,000 watts of power we are the only advertising medium that covers the entire trade area.  Our signal is strong from the Wyoming border to Canada, and from just east of Billings into North Dakota.  With our sparse population, the giant coverage area of AM radio rules.  This station has been on the air for over 65 years and we continue to be the #1 adult station in all of Eastern Montana.
In addition to Adult Contemporary music, we are the news and sports authority.  We carry ABC news and Sports. We are the only station in the market with a full time news director on staff.  Our award winning Sports department covers local sports and live play by play within our coverage area.  We serve the ranch community with Ag broadcasts and Ag news from the Northern Broadcasting System.
KATL HISTORY
KATL first aired September 9, 1941, under the call letters KRJF. At the time, they were a 1000-watt Class D station on the frequency of 1340 AM. After being purchased by Star Printing Company, the call letters were changed to KATL and they began to broadcast at 250-watts at night as well. In 1985, KATL changed it's broadcasting to 10,000-watts during the daytime, and 1,000-watts at night. They also changed frequency to 770 AM at this time. KATL continues to broadcast at this frequency and power today, covering several counties in Southeastern Montana.
KATL COVERAGE MAP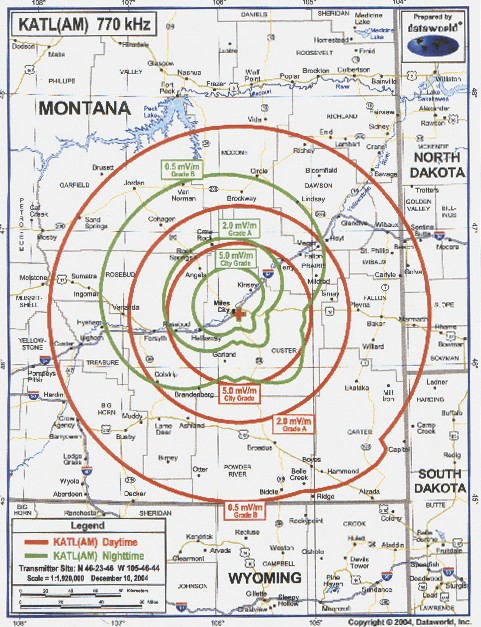 ADVERTISING RATES
Miles City, MT 59301                                  406-234-7700
Monthly Agency Flight Rates
Frequency
30 – Second
60- Second
1-19
$10.60
$17.75
20-40
$9.40
$16.25
40+
$8.55
$14.75
  
  
  
 Rates are commissionable.  Specific Times 10% Additional Cost.
 CAREERS WITH KATL
KATL currently has no job openings.